Things To Know About HacksawThings To Know About Hacksaw
Posted by Admin on November, 30, 2020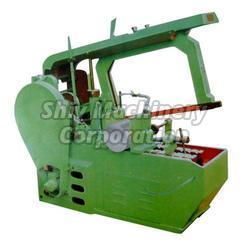 Before you know what hacksaw is used for, first let's make it clear about what is a hacksaw.
What Is A Hacksaw?
This is a tool which is used for cutting substances that are hard like metals. It is also used for cutting materials such as wood and paper. A hacksaw has fine-toothed saw which is thin, straight and wide. This is under tension in a C or at times you can say in a U shape metal bow frame. You can adjust the tightening of the saw according to the material you are dealing with. There are blades available in different sizes.

Depending on the type of cut that you need, you can choose the different set of teeth like 14, 24, 18, 32 teeth per inch. Some hacksaws also have adjustable frames which you can change according to the blades you choose. Usually, there is one handle in a hacksaw but there are exceptional hacksaws as well which has two handles for better grip. These help you work comfortably.
Choose the best hacksaw machine supplier Amritsar and choose the best hacksaw that suits your requirements and needs.

Types Of Hacksaws
There are mainly two different types of of hacksaws available. They are as follows:

Automatic Cut Off Saw
These are programmed to cut a substance of different sizes. In these hacksaws, you will get a control memory where different programs are stored. You can change it according to your needs and new dimensions of accuracy and efficiency. Using the controllable system, you can change the settings. Also, use the touching keys on the pad to change and control the settings. If you have heavy duty works in your workshop and want to reduce your time by cutting faster, you must use this type of hacksaw.

Sawing Machine
These are mainly designed to cut the bars of the materials in your required size and length. These are faster and also quite easy to use. There are three different types of sawing machines available in the market. They are:
• Band saw
• Circular saw
• Reciprocating saw

Types Of Blades Used In Hacksaw
There are different types of teeth available for a hacksaw. It ranges from 14 to 32 teeth per inch. The positioning of the teeth on a blade is known as sets. Three types of sets are available in the market they are regular, raker and wavy. Read on to know about these in details.
• Regular: In this set, the teeth touch each other. These blades are used to cut materials that are soft and doesn't have any iron content in it.
• Raker: These are placed in three different sets. These are used to cut thick materials.
• Wavy: In these, the teeth are placed in a wavy form and this gives you a fine and smooth cut. You can cut hard as well as thin materials using these.

Use Of Hacksaw
• This is used to cut materials like steel and other metal products like rods, pipes and bars in your required size and length.
• You can use to cut wood and paper.
• It is usually used for sawing and cutting materials that hard like metal alloys and stainless steel.
These were some uses of hacksaw machines. Choose reliable manufacturers and suppliers and get products from them.
This entry was posted on November, 30, 2020 at 11 : 34 am and is filed under Hacksaw Machine. You can follow any responses to this entry through the RSS 2.0 feed. You can leave a response from your own site.